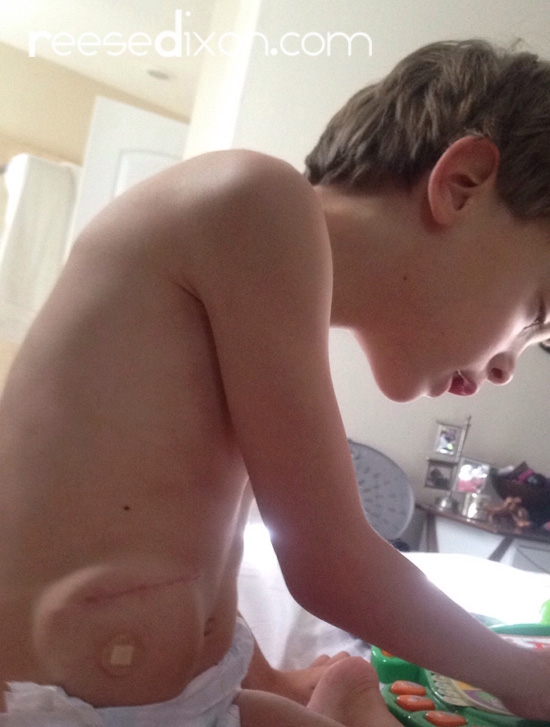 Atti stayed home from school today. We're all recovering from the flu, but that's not really what did it. It was his screaming and tears when we tried to get him up and ready this morning. This is not the first time either. It only started a week and a half ago and he's already begged and cried his way out of three days of school.
This actually doesn't have anything to do with school. He loves riding the bus so much he cries when he gets home. He loves his teachers, he loves the routine, he loves learning, but ever since his surgery my anxious little guy has ramped up into a kid who never wants to leave the house.
We tempt him with movies or his favorite foods or trips to special places like the zoo. Bear even took him to a water park and he begged to go home after minutes. Even with a rash guard covering his belly.
When he's at home he's happy as can be. As I type he's making up songs and playing with his Kindle at my feet. He needs a lot more assurance than pre-surgery, but since that basically just means more snuggles, I'm not mad at that. I just worry about my little guy and his relationship to the big wide world.
Shortly after I married Bear, I went through a period of agoraphobia. I would shake and cry at the thought of leaving the house. I failed my last semester of college, I lost a job, the thought of leaving that front door caused me physical pain. Now I know it's all part of the OCD/anxiety broth my brain is stewing in, but the conditions I was living in – not having the tools to be open and vulnerable to my spouse without letting all the pain of the world overwhelm me – took my typical level of compulsion to a place that made sunshine seem dangerous.
I think that's what's going on with Atticus. He has had a major, major, change to his body. Imagine how self-conscious you feel when you've put on a little weight. Remember how it kept you from applying for a job, or reaching out to someone you wanted to know. Now compound that by medical necessity, disability, and the fact that there is a giant medical appliance jutting out from his tummy instead of just a little normal extra weight. This poor kid is already so different in so many ways, but he also knows how beautiful he is. This threatens that. This is another threat to his ability to fit in.
He will get used to it. It's amazing what you can learn to accept. And we have all the right people involved. I'm just trying to be very carefully tuned in to him. Most days I would just tell him "Tough beans. You're going to school." But there are some days when that would make everything so much worse. Days like today when he just needs to feel safe and tackling the world comes after that. It would all be so much easier if he could speak fluently enough to go to therapy, or tell me how to help. But he doesn't, so we're both stumbling through trying to figure this all out together. All I know is that my first job is to make him know that he is loved. So back to the work of snuggling, and pushing, and eventually he'll get through this.