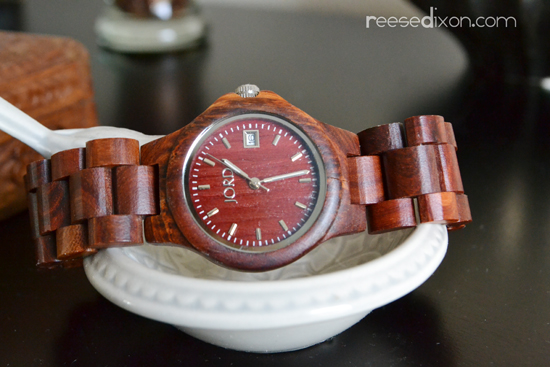 While I was sick I had to quit a lot of gigs. I left design teams, I returned products and money for posts I'd agreed to write, there were a whole lot of opportunities I had to let go of in order to get healthy. That's hard on a whole number of levels. It's hard to have your work suffer, it's hard to feel like you're burning bridges or letting people down, it's hard to admit your limitations. Everyone was nice and understanding, but there was one company that went so far above and beyond that I have to brag about them at the same time I brag about their product.
Months ago, like maybe around Mother's Day, the folks at JORD watches approached me about reviewing their product and hosting a giveaway. I went through my usual screening process, checking what the corporate values were, if the product was sustainable, and of course, whether I would actually spend my own money on the product. JORD is committed to using sustainable resources in the sourcing of their products, and when I first started learning about them they had just released a special watch design with proceedes going to the Pujols Family Foundation, a charity dedicated to those living with Down Syndrome and those in poverty in the Dominican Republic. The watches passed all my tests so I asked them to send me one that I could try out.
For real – it is indescribably gorgeous.
I love it. I truly love it. Wood is such a beautiful material that I love having something so fine to celebrate it. It's not cold and it doesn't trap my arm hairs like a metal band, but it also doesn't sweat like a leather band. I wore this throughout a sweaty summer and felt just fine. It's surprisingly light, and it's so unique I get comments every time I wear it. It's the best thing I've gotten in ages.
So even if all that happened was that I got a beautiful new watch I was totally besotted with and recommended it to you guys, it would be a successful partnership. But how the marketing manager I worked with treated me was what bumped this up from a post about showing off something pretty to an unqualified rave.
Like I said, everyone was nice. All the corporations wished me a speedy recovery, they all held doors open for me to come back, everyone was understanding and supportive. But they also have a job to do, so most of them went for the quickest resolution to our relationships. One company emailed me several times a week to make sure that we settled on square terms – not really easy for me to deal with when my health was such a concern, but never rude or unwarranted. JORD, however, just sent me support and well wishes and told me to take my time, they'd check back in around the holidays. They never suggested that I send the watch back – which would have broken my heart but they would have been well within their rights to do it. I never got an email that didn't first address their support and concern for me, and by the way, could I just give them a timeline, and also, if they could do anything to help me they would.
I've worked corporate marketing jobs, so I know that one individual nice person can only go so far. That nice person has bosses with their own timelines and agendas. They want to know how their marketing budget is working out, where to put their future marketing dollars, and see some return on their investment. The fact that they set all that to the side, along with the concern that I'd never fulfill my agreement to them and just keep the watch with no marketing at all, meant that they prioritized respect for people over their business agenda.
How rarely does that happen?! As major chains make their employees come in on Thanksgiving, it's getting harder and harder to find companies that make you feel like you're putting your money in a good place. I'm so happy to recommend a company that makes a beautiful product made by good people.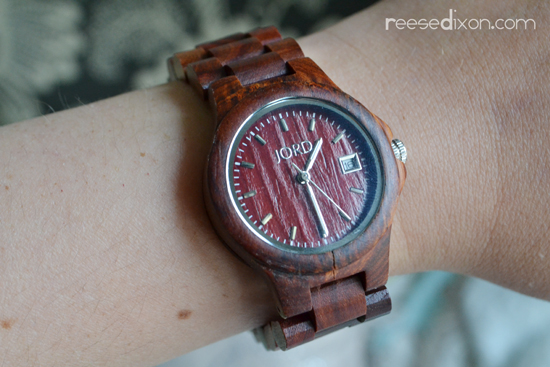 And you can have one too! JORD has earmarked another of these beauties to give to one of my readers. Just leave a comment and I'll pick a random winner on Black Friday. Good luck!
**Disclaimer** JORD gave me a watch to try but all thoughts and pictures and opinions are my own.