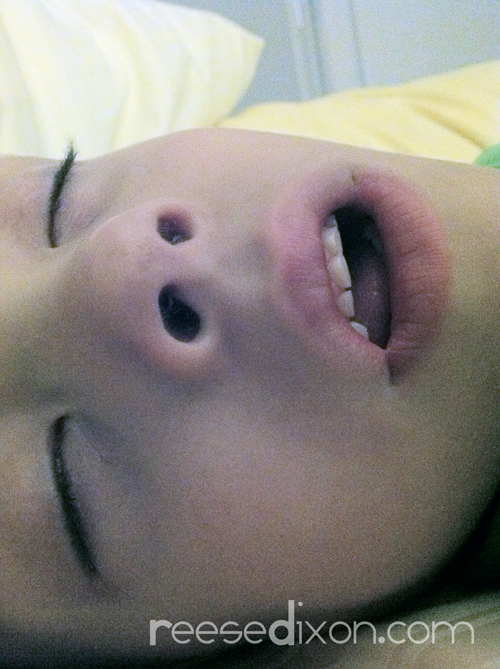 Whenever we stay at Grandma's house, we all sleep in one big bed. It's a luxury I treasure since we don't do it at home – early mornings and places to get mean we actually need sleep, which we can never count on when Atti's in the bed. This most recent trip I went down with Atti by myself while Bear stayed behind to work, so I had a big queen bed to myself and a snuggly little guy. It was heaven.
I snuck into bed after he had been asleep for a few hours and turned on the lamp so I could get in some hard-won reading time. In the lamplight I curled over to cuddle up to my boy, took one look at him slumbering there, and my heart snapped in half.
When he's sleeping Atti looks so little to me. I can always see the baby still lingering around the edges. But with his mouth open wide enough for me to see the gaps in his teeth – gaps from his jaw and mouth getting too big for his little baby teeth – I felt that baby disappear forever.
Atti will be six this week. Six.
Every birthday has me feeling maudlin and sentimental, but this one is getting to be a bit much. He got his haircut and I cried. He wears jeans and t-shirts and looks like a big kid and I cry. He brings home school work and notes from his teacher and I cry. No mom is ever 'ready' for their baby to grow up, but right now? I'm taking it especially hard.
I think it's the infertility. Each year that goes by without a sibling for him feels like I'm further and further out on that tail of statistical improbability. Each year older makes it harder, and less likely, that I'll ever get to have another baby. I have to not only accept the fact that my baby is growing up, I have to try and face that this might be my only shot at motherhood.
Before I had Atti I always tried to hold a place in my heart for people suffering through secondary infertility, but it was always an exercise in radical empathy. Deep deep down, I really believed they didn't have a right to ache like I did. They got to be a mom. They shouldn't be greedy. But now I know so so so much better. For one thing, I know that pain is not relative, and anyone who tries to rank "appropriate" pain is just a jerk. But I also know what happens to your heart when you open it up enough to be a mom. I feel like this raw pulsing organ, running around with arms outstretched begging for someone to let me love them. I feel like I have no defenses. Like my vulnerability is wandering unsupervised through the world and I can never again pretend to be hard and closed off and impenetrable. My achilles heel is riding around on wheels and pushing his hair out of his eyes.
As hard as it was to not be a mom, and it was so so hard, it's also, and a different kind of hard, to not get to be the kind of mom you want to be. Either way I had my coping devices. Pre-parenthood it was pursuing careers and education, taking advantage of my freedom, closing myself off to the world of babies and kids and putting all my attention on the adult world. Now it is wrapping myself up in my sweet little guy, getting kisses from him even if it means I have to trick him into playing a game where he gets to smash his face into my lips. I see now that there's really no comparing the two. Being a mom of one doesn't erase the pain of infertility, even as you enjoy every moment of it. Just like being independent and having opportunity doesn't erase the pain of not having children, even as you enjoy every moment of that. It's hard and it's great. Full of silver linings and wonderful joys and also full of sorrow. It's both at the same time.
No matter what the circumstances surrounding it are, it is always heartbreaking to want to love and not have an opportunity to give it.
I'll be celebrating Atti's birthday with him later this week, but today I'm grieving. Every bit of independence our kids achieve is us mom's putting ourselves more and more out of a job. That's tough for all of us. But it feels especially bitter and only a little sweet to me today. I love being a mom more than anything else. I want another chance.