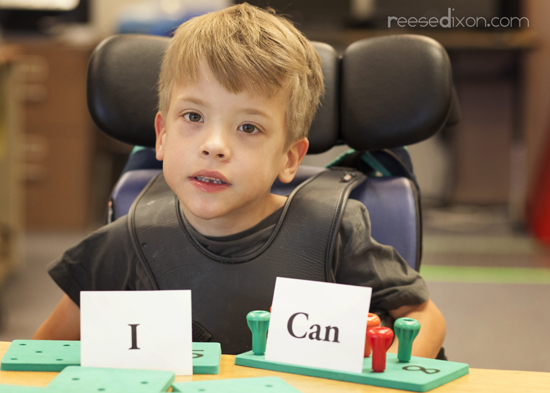 In keeping with this crappy year, I am not the only member of our family facing medical problems. For Atti's whole life we've been watching his hips to see if they would be damaged by the tight spasticity of his muscles, and that time has come. His hamstrings are so tight that they've pulled one of his hips out of its socket. It's so far out you can actually tell by looking at him when he's crawling around pantsless. It's like his own muscles are drawing and quartering him. Sorry. Gruesome, but you get the idea.
Eventually Atti will need a total hip reconstruction. But before that can happen they need to get the spasticity under control. It wouldn't do to reconstruct his hip only to have the muscles pull it right back out of socket again. We did a test last month for a muscle relaxant for him and it went really well, so later this week we'll have a final consult about what the plan will be before having a surgery to implant a pump into his abdomen.
The Baclofen pump works in the same way as an insulin pump. It's implanted in the abdomen, just under the skin, with the medicine going into the spinal cord to avoid the side effects you'd get if the medicine went to the brain in large doses. The dosage is fine-tuned to get the best results for each patient, and more medicine is filled by injecting through the skin into portals in the device. I've heard all the miracle stories, and during the trial it was obvious that Atti was relieved from discomfort and pain he lives with as part of his normal. It's all going to be a good thing.
And yet, this is grieving me like nothing else. The thought of him having this hockey puck sized protrusion from his sweet little tummy… the thought that it might hurt him if we play Bongo Belly like we have his whole life…his sweet smooth little belly scarred up…I'm just so deeply sad.
It's kind of arbitrary the stuff that really gets to us. He's had so so many surgeries. He has scars, he uses devices other kids don't, he's already "different", but braces and scars never bothered me before. I don't know why this one makes me so sad. I have scars on my face, on my feet, and a giant one on my own belly courtesy of Atticus himself, and I never even think of them. It's part of being a human and they don't trouble me in the slightest. But I guess this is the straw on the camels back. I've been brave and pragmatic about everything else. This one I'm just going to face weeping.
Compounding my grief about the implant is the knowledge that we are running out of time. His entourage always used to talk about his future with the worst case scenario being "IF" he doesn't leave the chair. It was expected he would walk, anticipated, planned for. Now I've seen them all subtly shift to "IF" he walks. It's still something we're hoping for, working towards, but it's become the long-shot. I tell the doctors and nurses and therapists that he'll be seven in February and universally their faces fall as they cast worried glances at each other, wondering if they're going to have to break me the news. They don't. I understand. 8 years old is the benchmark. After that the pre-pubescent changes begin and there's no keeping up with them. His growth plates are closing, and so is our window.
Living a whole life in a wheelchair is hardly the worst thing that could happen. With more wounded veterans in wheelchairs, maybe by the time Atti is grown there will be more accessibility, or even new devices. My Father-in-law is always talking about how one day they'll implant microchips in our brains and disability will be a thing of the past. It cracks me up, but he's not crazy. If Atti had been born ten years earlier he and I would both be dead, so who knows what developments will occur in between now and his independent adulthood.
But still. It's hard to let go of dreams. It's hard to let go of that vision in your head of your child in a jersey or on the track. To accept the fact that life will be harder for him. There will be places that will be inaccessible. That he will know pain and have his body scarred. But all those things have been true for me and I wouldn't trade my life with anyone. In the future maybe he'll have a microchip in his brain, maybe he'll have one of those walking exoskeletons, maybe he'll be part cyborg. I really don't care as long as he gets to have the fulfilling, independent life that is my heart's true dream for him. This surgery is the next step there.
Both to independence, and to being part cyborg.